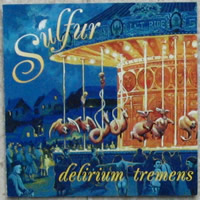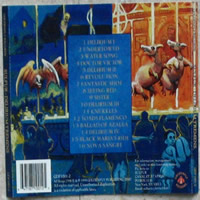 Sulfur
Delirium Tremens CD
Goldenfly 1998
[posté le 12 novembre 2013]

Après Motherhead Bug la semaine dernière, il était dans la logique de proposer Sulfur. Son alter ego, en plus jeune de cinq années, en un peu moins bien mais Motherhead bug avait mis la barre tellement haute que le niveau atteint par Sulfur reste très élevé. Plusieurs musiciens de Motherhead Bug ou invités (et ils sont très nombreux, vous n'avez qu'à lire la liste ci-dessous, je ne me suis pas fatigué à retaper tout ça pour rien !) participent à Sulfur, dont Norman Westberg (Swans) et la tête pensante David Ouimet. Pour Sulfur, la tête pensante est une femme (ce sont des choses qui arrivent), française en plus (ça aussi, ce sont des choses qui peuvent hélas arriver), Michele Amar, dont l'histoire avait déjà été comptée à la suite de celle de Motherhead Bug. Oui, ces deux groupes sont indissociables. Par leur histoire, les musiciens et la famille musicale empruntant des plates-bandes identiques, celles d'un folklore-punk envoûtant. Ce sera le seul album de Sulfur et c'est déjà pas mal.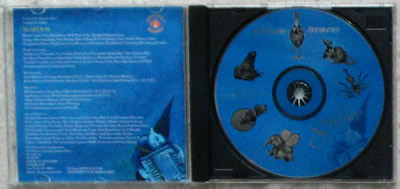 infos : Sulfur is : Michele Amar : Voice, Keyboard on 2 & 8, Musical Saw, Samples & Programming, Norman Westberg : Guitar, Nick Heathen : Piano & Samples, Fiona Doherty : Bass, Heather Paauwe : Violin, Dan Joeright : Drums, Tony Corsano : Low Drums and Percussion, David Ouimet : Trombone, Melodica and Vocals. Guest musicians : Neil Benezra : Percussion, Yuvall Gabay : Drums, Paul Nowindski : Upright Bass, Tokie Koyama : Bass, Jojo Mayer : Percussion and Glockenspiel, Paula Henderson : Baritone Sax, Jim Colarusso : Trumpet, Yuri Zak : Accordion on 2, Amir : arabic flute on 15, April Chung : Violin, Shoyo Iiada : Guitar on 3, 9 & 16. Horn arrangements by Amar and Ouimet. Produced by Michele Amar. Arranged by Sulfur. Recorded by : Matt Hathaway at Unique Recordings (2, 8, 11) / Martin Bisi at B.C. Studios, Brooklyn. Bryan Martin at Excello Studios, Brooklyn (3, 9, 16) / Nick Heathen at Great Interface (4, 6, 7, 12, 13, 15). Mixed by Roli Mosimann at Powerplay and East Side Studios (3, 7, 8, 11, 12, 13, 16). Ingor Krauss at Coney Plank Studios, Cologne, Germany (2, 4, 6, 9, 15). Design : Charlotte Hommey, all art by David Ouimet. Mastered at Masterdisk by Howie Weinberg.