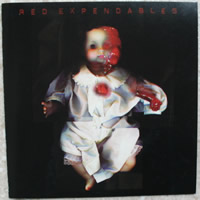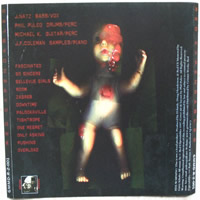 Red Expendables
s/t CD
Grimm Werks 1997
[posté le 21 avril 2012]

Red Expendables, c'est Cop Shoot Cop qui vient juste de se séparer. C'est une bonne idée pour ne pas laisser à l'abandon des morceaux débutés avec Tod Ashley avant qu'il ne quitte le navire en octobre 1995. C'est le cinquième album de Cop Shoot Cop qui change de nom. Ce sont les parties de basse de Ashley conservées sur sept titres, son chant effacé et remplacé par celui de J. Natz en décembre 95. C'est l'arrivée d'un nouveau venu, Michael Kaminski à la guitare et percussion. C'est un putain de bon disque qui n'a hélas pas eu la chance d'être soutenu et connu comme il se doit. Alors si vous aimez le Cop Shoot Cop de Release, faites vous plaisir et donnez une chance à cet album regorgeant de très bons titres.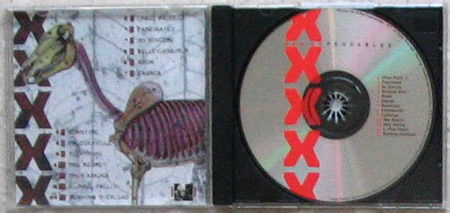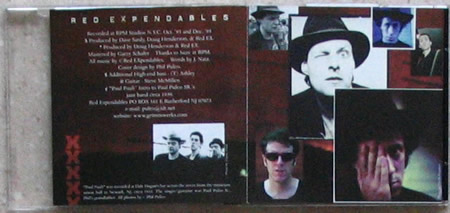 infos : J. Natz : bass/vox. Phil Puleo : drums/perc. Michael K. : guitar/perc. J.F. Coleman : samples/piano. Recorded at RPM Studios N.Y.C. Oct. '95 and Dec. '95. Tracks 4, 5, 7, 8, 9, 10 & 13 produced by Dave Sardy, Doug Henderson, & Red EX. Tracks 2, 3, 6 & 11 produced by Doug Henderson & Red EX. Mastered by Garry Schafer. Thanks to Suze at RPM. All music by Red Expendables. Words by J. Natz. Cover design by Phil Puleo. Tracks 4, 5, 7, 8, 9, 10 & 13 Additional High-end bass - (T) Ashley. Track 13 Guitar - Steve McMillen. Tracks 1 & 12 "Paul Pauli" Intro to Paul Puleo SR's jazz band circa 1930. "Paul Pauli" was recorded at Dale Hagan's bar across the street from the musicians union hall in Newark, NJ, circa 1933. The singer / guitarist was Paul Puleo Sr., Phil's grandfather. All photos by Phil Puleo + Danny Glick.