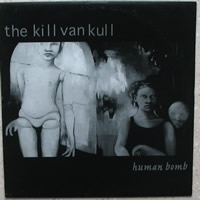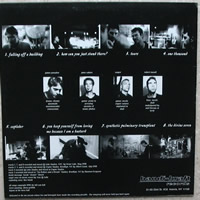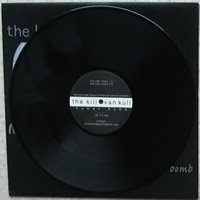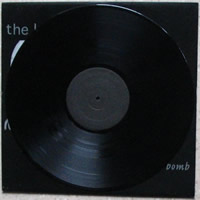 The Kill Van Kull
Human Bomb - LP
Handi-Kraft records 1998
Human Bomb - CD
Eyeball records 1999
[publié le 12 janvier 2017]

Kill Van Kull est le nom d'un détroit séparant Staten Island à New York et le New Jersey. Ça, je viens de l'apprendre sur internet (qui te fait toujours plus intelligent que tu n'es) en se demandant si The Kill Van Kull n'avait pas réalisé un autre album dans sa vie que ce Human Bomb. La réponse est non. Il existe pourtant deux versions de Human Bomb. La première en vinyle en 1998 sur Handi-Kraft, le label du batteur. La seconde un an plus tard sur Eyeball records avec trois titres supplémentaires. Car entre temps, Janis Cakars avait quitté le groupe pour suivre des études dans l'Indiana. Un autre guitariste, Ben Smith, l'avait remplacé. Et pour fêter ça, The Kill Van Kull avait enregistré trois nouveaux morceaux avec lui et ils sont uniquement présents sur la version CD (les trois derniers dont un sans titre), celle qui vous est proposée dans le téléchargement.
Les musiciens oeuvrant dans ce groupe n'étaient pas des débutants à l'époque. Et encore moins après. Le plus actif est le guitariste et chanteur Cooper. Membre de Die 116, Made Out Of Babies et The J.J. Paradise Players Club tout comme le batteur Jim Paradise qui officie désormais au sein de Pigs. Et qui a joué aussi pour Hell No avec le guitariste Janis Cakars. Bref, The Kill Van Kull était une représentation de ce qui se faisait de mieux à l'époque à NYC dans le genre hardcore-noise. Kiss It Goodbye, Deadguy, Hell No, Unsane, autant de repères pour vous donner une idée de l'agression qui vous attend et qui avait déjà été narrée à l'époque sur cette page.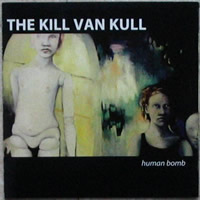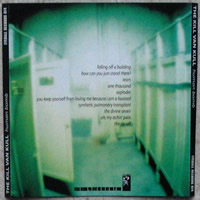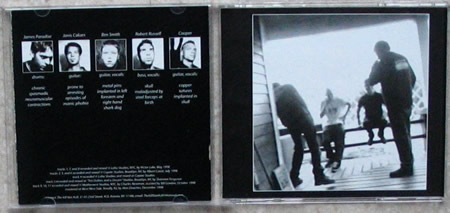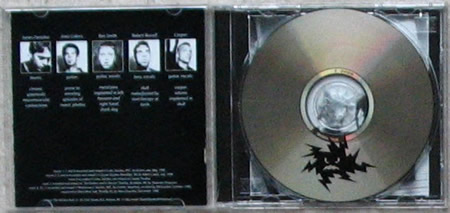 infos
LP : black vinyl, 33 rpm. James Paradise drums : chronic spasmodic neuromuscular contractions. Janis Cakars guitar : prone to arresting episodes of manic phobia. Cooper guitar, vocals : copper sutures implanted in skull. Robert Russell bass, vocals : skull malajusted by steel forceps at birth. Tracks 1, 7, and 8 recorded and mixed @ Loho Studios, NYC, by Victor Luke, May 1998. Tracks 2, 5 and 6 recorde and mixed @ Coyote Studios, Brooklyn, NY, by Albert Caiati, July 1998. Track 4 recorded @ Loho Studios and mixed at Coyote Studios. Track 3 recorded and mixed at "Ten Dollars and a Dream" Studios, Brooklyn, NY, by Shannon Ferguson. Bomb message : Sarah "cleaner" Meech. Angel voice on divine seven by : Lisa @ Loho. Exploding voice : Ben Smith. Cover painting : Olivia Griffith. Layout at the mess hall. Dedicated to the one person whose lies and betrayals have made his recording possible. Our integrety will never hold you back again.
info CD : Ben Smith guitar, vocals : metal pins implanted in left forearm and right hand shark dog. Track 9, 10, 11 recorded and mixed @ Motherwest Studios, NYC, by Charles Newman, assisted by Bill Gordon, October 1998. Mastered at West Side, Tenafly, NJ, by Alan Douches, December 1998. Rodus extraordinaire : Emily Wilson. Voice of the goddess : Eva Maura. Live sound and tequilla : Dave Curran. Photos by : Emily Wilson, Eric Barnes, Seth Roscoe, Cooper, Joe (Clark) Langford. Design concept : The Kill Van Kull. Original layout at the mess hall. Layout and design : Vincent Li.