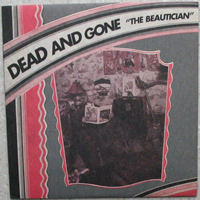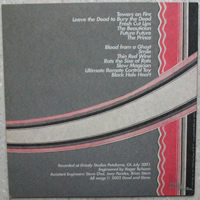 Dead and Gone
The Beautician LP
Gold Standard Laboratories 2002
[posté le 02 mars 2014]

Dead and Gone va se mettre au diapason de son patronyme et mettre la touche finale à sa discographie avec un somptueux album, The Beautician, le meilleur des trois que le groupe de la Bay Area ait réalisé depuis ses débuts en 1995. Mais c'est en fait à l'album Wonders of Giardia par Creeps on Candy, qui, je ne vous le répéterais jamais assez, regroupait trois des quatre membres de Dead and Gone, en plus d'être miroboliquement fabuleux, auquel ce disque fait penser. The Beautician n'offre pas tout à fait la même punition mais on n'est pas loin d'avoir le même genre de bonne fessée punk-noise ténébreuse, rampante, acide et percutante, avec des balades monstrueuses de noirceur comme Blood from a Ghost. Ça me rend dingue à chaque fois.
Par la suite, Rockey Crane jouera dans Year Future et Optional Body. Brian Stern met ses talents de bassiste au service de Living Eyes. Le chanteur Shane Becker pousse la mélopée avec deux groupes, Pins of Light (un album sur Alternative Tentacles en 2012) et Alaric. Quant au batteur Joey Perales, c'est pas de nouvelle, bonne nouvelle.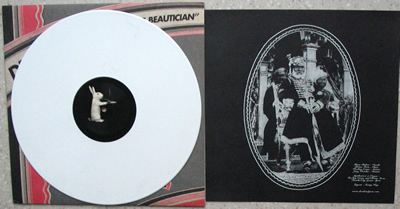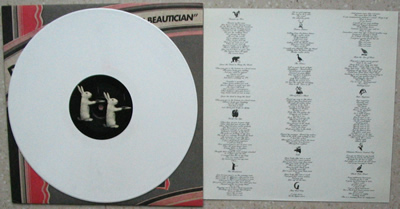 infos : 33rpm, white vinyl, 1 insert with lyrics. Shane Baker - Vocals. Brian Stern - Bass. Rocky Crane - Guitar. Joey Perales - Drums. Synthesizer & Organ - Rocky Crane and Brian Stern. Roadied by Jerme Spew. Layout - Sonny Kay. Recorded at Grizzly Studios Petaluma, CA July 2001. Engineered by Roger Tschann. Assistant Engineers : Steve Choi, Joey Perales, Brian Stern.