These Immortal Souls
Get Lost (Don't Lie !) - LP
Mute records 1987
Marry Me (Lie Lie) - 12''
Mute records 1987
[publié le 13 octobre 2019]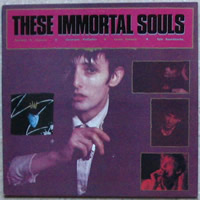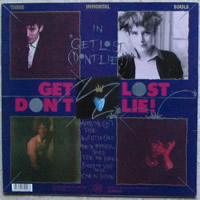 Cela fait 10 ans que Rowland S. Howard nous a quittés. The Boys Next Door, The Birthday Party bien sûr, sa carrière solo, de nombreuses collaborations avec Lydia Lunch ou Nikki Sudden et Crime And The City Solution qu'il venait de lâcher pour former These Immortal Souls. Un projet éphémère, pas le plus connu mais pourtant incontournable dans sa pléthorique discographie.
Pour l'accompagner, la claviériste Genevieve McGuckin et compagne de Howard, le batteur Kevin Paul Godfrey, alias Epic Soundtracks, décédé en 97 et qui avait fondé avec son frère Nikki Sudden le mythique groupe Swell Maps et à la basse, Harry Howard, le jeune frangin de Rowland.
Crime And The City Solution n'ayant pas invité les frères Howard et Epic Soundtracks à l'enregistrement de leur troisième album Shine, la scission avec le groupe de Simon Bonney est définitive et le trio débarqué décide alors de former These Immortal Souls en recrutant McGuckin.
Get Lost (Don't Lie!), premier album en 1987 avec sept titres composés par Rowland S. Howard sauf Hey! Little Child, une reprise d'Alex Chilton ou co-écrit avec sa copine (Hide) ou son frère ('Blood And Sand' She Said) où toute la beauté et la détresse du monde dans le chant fatigué et désabusé de Rowland S. Howard, une voix aussi fragile et triste que son incroyable regard. Ce n'est pas son point fort, on le préfère à la guitare mais c'est depuis ce chant incertain que These Immortal Souls se construit, façonne des morceaux instables, troublants, étrangement élégants et douloureusement perçants. L'univers musical de son ex-compère Nick Cave et ses Bad Seeds n'est pas très éloigné, voir The Birthday Party sur 'Blood And Sand' She Said et sa rythmique tribale. Les différents claviers et la guitare principalement acoustique renforcent le coté ballade des morceaux, une poésie funeste et désenchantée de la part d'un groupe qui savait aussi rocker, évoluer sur une corde raide. Et comme le dit Howard sur la chanson du même nom, I Ate The Knife, ce qui résume assez bien l'affaire de These Immortal Souls.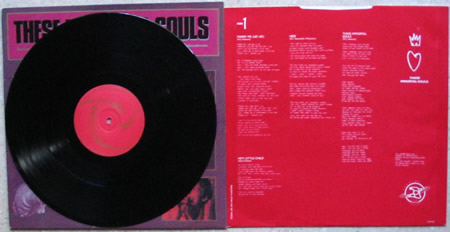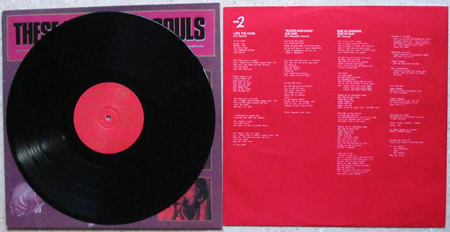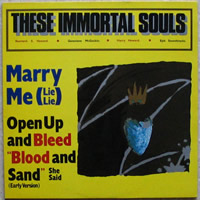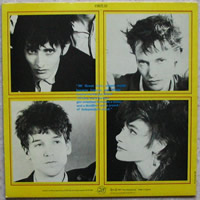 Juste avant la sortie de Get Lost (Don't Lie!), un maxi trois titres avait été publié. Face A, le morceau phare Marry Me (Lie Lie) qui se retrouvera sur l'album avec sa mélodie au piano irrésistible. Face B, 'Blood And Sand' She Said dans une version (très) légèrement différente et Open Up And Bleed, une reprise de The Stooges qui apparaît sur un album live publié en 1995 sous le nom de Iggy And The Stooges ou sur des compilations. Et la façon dont These Immortal Souls reprend ce titre avec une majorité de cordes acoustiques vaut largement l'écoute de ce maxi qui offre donc par ailleurs qu'un intérêt limité.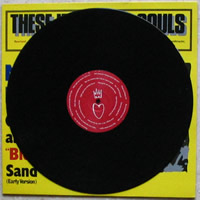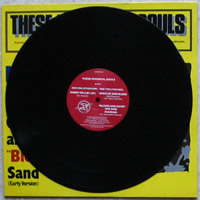 infos LP : 33 rpm, printer inner sleeve with lyrics. Rowland S. Howard : voice, all guitars, backwards and sliding included, organ on "I Ate The Knife", tambourine on "Hide", cymbal distortion on "These Immortal Souls" and "Blood And Sand". Genevieve McGucklin : grand pianos & vox continental organ and piano avalanche. Harry Howard : bass and revolving fuzz bass. Epic Soundtracks : drums on all songs plus school bell except "Hide" on which he played tom toms. Guest stars are : Barry Adamson, drum kit on "Hide" and backing voice on "One In Shadow". Harriet Freeman played viola on "Hide" and also on "Open Up And Bleed" on the single and C.D. Photography by Birrer. Backcover photo of Genevieve McGuckin by Susan McGuckin. Sleeve concept : Rowland S. Howard. Design : CIB. Recorded and mixed by Flood, Tony Cohen & Alan Moulder.
info 12'' : 45 rpm. Rowland S. Howard, Genevieve McGuckin, Harry Howard, Epic Soundtracks. "101 Great lives, stayed inside became intense, put things in new words, got drunk 'till they were famous got smashed between a vision and a deadline, and a crowd of independent mind."