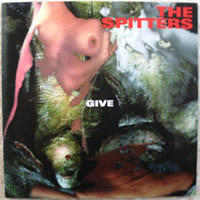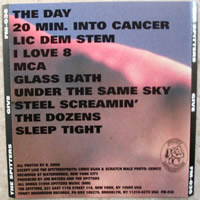 THE SPITTERS
Give CD
Funky Mushroom 1994
[posté le 28 octobre 2011]

The Spitters a craché tout son fiel entre 1993 et 1995, dans les rues de New-York et pas les plus avenantes. Le temps de sortir deux albums, Give et Sun To Sun. C'est Give le meilleur. C'est comme ça. Mark Ashwill, ex-batteur de Missing Foundation, fondait The Spitters dans la rédemption, pour se débarrasser de vieux fantômes et de quelques seringues. L'ombre maléfique des Swans, Cop Shoot Cop, Unsane et Pussy Galore traine sur cet album. Et en parlant de trainer, vos oreilles seraient bien inspirées de le faire en écoutant ce disque noir et cruel. Pour le reste, lisez ceci.




infos : The Spitters are : Mark Ashwill, Wm Bronson, Tim Bradlee, Louis Echevarria with Mark Laramie (guitar, track 8), Antwan Du Swan (guitar, track 10), Julie Spodek (drum, track 3), Jim Waters (guitar, bass, track 5). All photos by R. Kern except live The Spittersphoto : Chris Egan & Scratch Male photo : Genice. Recorded at Waterworks, New York City. Produced by Jim Waters and The Spitters.