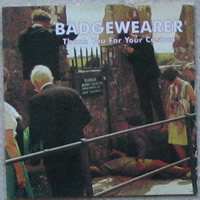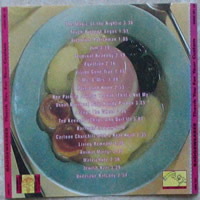 Badgewearer
Thank You For Your Custom CD
Amanita/Guided Missile records 1996

Finissons la semaine consacrée aux écossais de Badgewearer avec deux albums pour le prix d'un. Thank You For Your Custom, chargé jusqu'à la gueule de 21 morceaux. Pas loin d'être mon préféré des quatre albums de Badgewearer bien qu'aucun ne soit à jeter. Du bonheur en barre, des tubes à foison, du punk piquant procurant des émotions multiples. Jamais autant de soleil n'est venu d'Ecosse.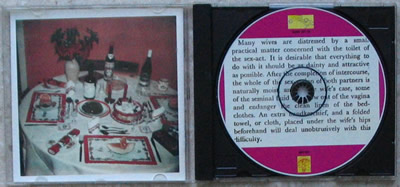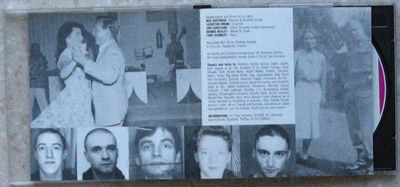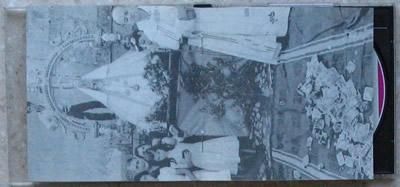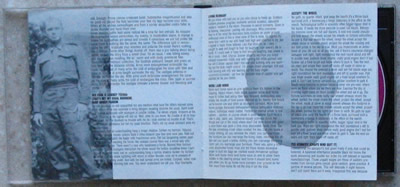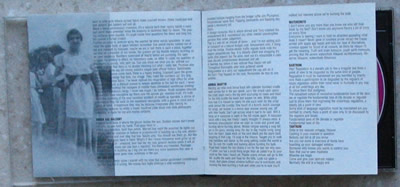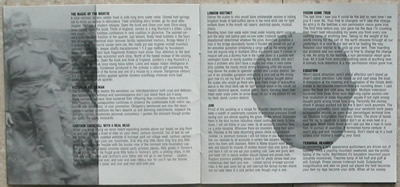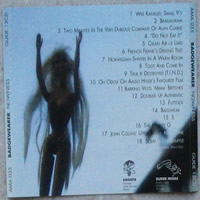 Badgewearer
Nowness CD
Amanita / Guided Missile records 1997
[posté le 23 mai 2013]

Chant du cygne avec Nowness, dernier album de Badgewearer. Les liens du groupe commencent à se dissoudre. Le batteur Leighton Crook est remplacé sur une poignée de titres par Duncan Sillars, la foi et l'euphorie sont moindres mais les cinquante minutes de cet ultime disque restent parfaites de mélancolie, de punk-rock malicieux et inventifs, de jazz tordu, de coups de sang et d'envoilées jubilatoires. Pour rappel, toute l'histoire du groupe est racontée ici mais faites vous une faveur. Si vous n'avez jamais entendu Badgewearer de votre chienne de vie, téléchargez tout ce qui les concerne, procurez vous leurs disques se trouvant encore à des prix très abordables, sinon, c'est pas la peine de revenir sur ce site.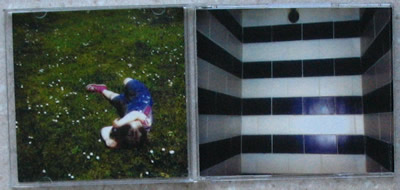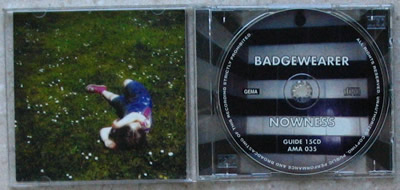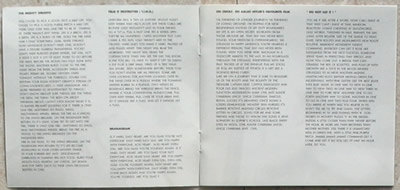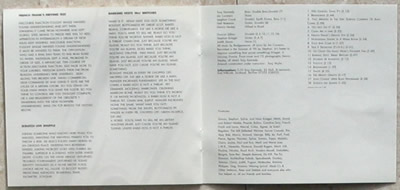 infos Thank you CD : Badgewearer are (from left to right) : Neil Bateman : Electric & Acoustic Guitar. Leighton Crook : Drumkit. Jim Carstairs : Voice, Acoustic Guitar, Harmonica. Dennis Healey : Wheel to Road. Tony Kennedy : Bass. Recorded Nov' 95 by Stephen Kreiger in Urcuray, Hasparren, France. All words Jim Carstairs except track 18 : President Clinton. All music Badgewearer except tracks 7, 15, 16 : Jim Carstairs.
infos Nowness CD : Tony Kennedy : Bass, Double Bass, Drumkit (7). Jim Carstairs : Voice. Leighton Crook : Drumkit, Synth Drums, Bass (11). Neil Bateman : Guitar, Drumkit (4). Dennis Healey : Wheel to Road. Duncan Sillars : Drumkit (2, 5, 10, 11, 12, 16). Stephan Krieger : Guitar (3, 4 , 7). Judith Simon : Voice (1). Recorded in the Summer of '96 by Stephan (it's better to improve something than prove something) Krieger, in Urcuray, France. Front cover and CD photographs Dennis Healey, all others Tony Kennedy. Artwork construction under instruction : Tony Wylie.